Revolution V251 Touchscreen Deadbolt
V251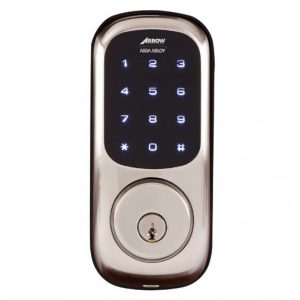 Revolution Deadbolt Touchscreen
The NEW Arrow Revolution V251 stand-alone touchscreen deadbolt offers a high-tech, aesthetically pleasing security solution to enhance everyday deadbolt systems. Using state-of-the-art touchscreen technology, end-users can easily grant access for up to 25 individual users without the need to distribute and keep track of multiple keys. The Revolution deadbolt is simple to program easy to install in a matter of minutes.
Multi-lingual voice guided technology allows for hasslefree programming without a need for bulky manuals. For any facility application requiring an advanced featured deadbolt to control entry, the Arrow Revolution Deadbolt is the modern, ideal solution.
Questions? Let us know!
Electronic Elements
Stand-alone Touchscreen Access Locking Device
Tri-lingual – English, Spanish, French
High Tech Look & Feel
Volume Levels – Full, Quiet, Off
Easy to Use, Install, and Program
Users: – 25 Users – Add/Delete Individual Users
Battery Life – One Year
Deadbolt Motor – Motorized Bolt In and Out
Privacy Feature
Mechanical Components
Medium Duty Commercial, Grade 2
Keying – Standard Cylinder or SFIC Prep.
Key Override – Uses standard Arrow cylinders available in AR and CS keyways
eather Resistant – FullWrap Around Gasket on Both Sides
Manual Retraction – Inside Thumbturn, ClutchedMotor Assembly
Door Prep:
Standard Prep; 2-1/8″ Through Hole, 1″ Bore Hole For Latch
Backset:
Adjustable to 2-3/4″ or 2 3/8″
Handing:
Field Reversible
Door Thickness:
1-3/8″ – 2-1/4″ Thick Doors
1-3/8″ Requires a Special Thin Door Gasket
Packaging:
Warranty:
1 yr electronic warranty and 3 year mechanical and finish for commercial applications
1 yr electronic warranty and lifetime mechanical and finish for residential applications
Finishes:
Functions: