Arrow Lock 7800 Series Powered Door Operator
Arrow 7814U Door Operator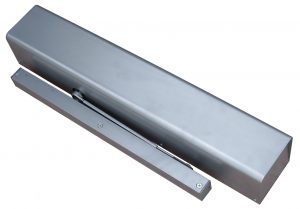 Product Details
The Arrow Lock 7800 Series Powered Door Closers are low-energy operators which function as standard spring-force closers during close cycles when a door is opened manually, or if power is lost or turned off. The 7800 is ideal for doctors' offices, retirement facilities, schools, churches, and other applications where noise may be a concern.
ADA/Americans with Disabilities Act
7800 Series meets the standards of ANSI A117.1 for barrier free accessibility. Look for the universal symbol next to Arrow products that comply with ADA accessibility u requirements.
Certification
C-UL US listed for use on fire and smoke barrier doors
2-year warranty
Meets requirements for Americans with Disabilities Act (ADA)
ANSI/BHMA A156.19 certified
Meets ANSI/BHMA A156.4 requirements
Ease of installation and setup
Simple instructions
Application versatility and ease of adjustment Push or pull side mounting units available
Operates as mechanical surface closer during close cycles, when door is opened manually or if power is turned off
Quiet operation
Spring force provides the feel of a normal manual door closer
Door can be opened manually if desired
Adjustable Spring Power
Backcheck Valve
Sweep Valve & Latch Valve
Non-Handed
Unit Activation Options:
Wall switches
Motion sensor
Radio frequency device
End-User On/Off Switch
Hold Open options:
0-30 seconds (5 seconds minimum required for ADA and ANSI/BHMA A156.19)
Obstruction Detection:
Motor stops if door is obstructed during an opening
Door closes under manual spring force (not to exceed 15lbf)
Power Input:
120 VAC, 60Hz connects to wall outlet
Includes 2 radio-frequency wall switches powered by 9V batteries and 6″ x  6″  face  plates with American with Disabilities (ADA) logo
Current Draw:
Relay Output:
DPDT
Normally Open/Normally Closed (jumper)
For electric strike function
Finishes:
Aluminum (689) AL
Dark Bronze (690) DBZ