Cyberkey CK-AIR
WiFi Enabled Cyberkey For Real Time Access Control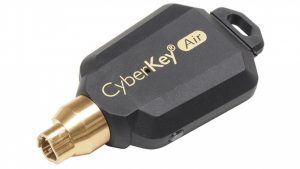 Product Details
Before CyberLock, Inc. launched the Wi-Fi enabled CyberKey® Air, the only reliable way to obtain real-time access control information was to have a power source at the lock. Whether this source is a hardline cable or battery, it presents an installation hurdle that Cyberkey CK-AIR can easily overcome.
Consider an application for a new branch location with a couple of offices, a warehouse, and an outside storage container. In this scenario, locks on internal and external doors can be easily retrofitted with CyberLock cylinders. Warehouse cages and storage containers can be an even easier installation by simply replacing padlocks.
Once the locks are physically installed, adding them to the CyberKey Air system is as simple as logging into the key through a laptop or iPad, touching the lock with the key to load it into the database, and creating specific access schedules for each lock.
As long as the laptop or iPad is connected to the key's ad hoc network, all lock and key activity can be monitored in real-time. In the same manner, if access needs to be revoked, a few simple keystrokes on the laptop or iPad can change the permissions of the CyberKey Air.
Fiberglass reinforced nylon, replaceable brass tip
Rechargeable lithium-ion polymer battery
4 MB Memory for audit trail, lock access lists, & Schedules
Recharging via the key tip
Red & Blue LED lights top and bottom, green LED on key tip
Embedded speaker
Wireless 2.4GHz (802.11b)
The technology built into this new CyberKey will allow us to add further functionality to the key in the future.
ProSeries® resettable combination locks are designed for Commercial/Industrial applications
Set-your-own 4-digit combination for convenience and security; 10,000 possible combinations
No reset tool required
Large ergonomic dials with exclusive blind feature permit operation with gloves, in low light or complete darkness
Deadlocking mechanism protects against prying, shimming and rap attacks
Shackle seal and dial dust cover protect internal components and dials for trouble-free operation
2-1/4in (57mm) wide stainless steel body for extreme corrosion resistance
1-1/16in (28mm) stainless steel shackle for additional corrosion resistance